We think that great industrial augmented reality apps are easy to use by anyone, easy to deploy in any environment and run smoothly no matter the devices and systems our customers use. Our web-based authoring tool Augumenta Studio is developed just for that: customizing Augumenta AR apps to match the specific requirements of our customers' use cases. Choose an app, master the content in an easy to use visual editor, and take into action on the shop-floor.
Studio supports all commercially available smartglasses, understands standard industry protocols and connects with a wide variety of IoT platforms for fast integration.
IoT ready
Connect to sensors, machines and IoT platforms with standard protocols like MQTT and OPC UA.
What You See Is What You Get
Create your UI in seconds by simply dragging elements in place in an easy visual editor.
Built for teamwork
Share and co-create easily with your teammates.
Device agnostic
Our solutions operate on all commercially available smartglasses platforms.
Not an AR coding wizard?
Don't worry, we have the right solution for you!
Define data sources, design UI features, and choose the right interaction methods for AR apps. To get you easily started, Augumenta Studio provides you with pre-built templates and element libraries.  Drag and drop elements into place and hook them up with machines and your operations execution systems. When you're ready, move the design from Studio to smartglasses with one mouse-click. You'll have a ready to test application in a snap. No need for advanced coding skills to get started with industrial AR.
Check out the video!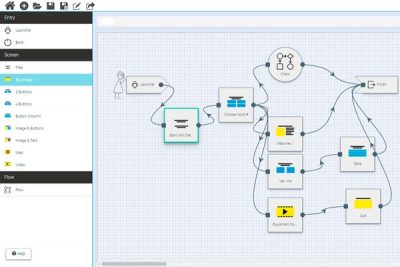 How does AR integrate into your operating systems?
Our goal is to keep the journey to industrial AR simple: manage content, connect systems and use AR applications with ease.
Augumenta Studio supports standard industry protocols like MQTT and OPC UA and integrates with industrial IoT platforms, for example, MindSphere, Watson, ThingWorx and AWS IoT, just to mention a few. You can connect AR applications to your company operations execution systems and industrial IoT platforms using the authoring tool.