Better customer support with efficient remote service.
SmartEyes is a solution that allows easy remote collaboration with customers, experts, and personnel in different locations.
The solution combines the best features of smartglasses with a high-quality feed from remote video cameras. It provides you with a view of the customer's equipment, facility, and people almost like you were there yourself. Communicate and co-work efficiently with the people on site.
See what your customer sees
Smartglasses enable you to share the same view as your customer.
High-quality footage
Remote experts get a full view of the support site via high-quality video cameras acting as their extra pair of eyes
Easy to set up
A plug and play solution for your customers, no need for complicated installation processes.
Intuitive to use
There's all that you need for efficient co-working but nothing extra to make it fast and easy to use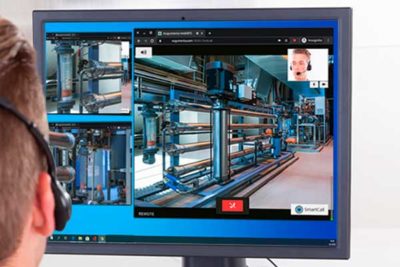 Remote collaboration made efficient
Gives you some extra eyes to remote locations
All smartglasses are equipped with a camera and they make a perfect tool for people in different locations to share the same view and work on a task together.
But sometimes a wider and more detailed view is needed to grasp the whole picture and to see every detail for example of a complicated installation project. The camera kit is a plug-and-play unit that allows remote experts to join a video call and see live HD video footage of the target they're working on at the same time on their display.
Easy to deploy and use
Robust and quick to set up in any location and industrial environment
The camera kit and smartglasses application combo is designed to be as simple to deploy as possible.
The kit includes a bandwidth-efficient video streamer and a 4G modem that works globally so that you can easily ship and use it anywhere. We have also included data storage so that any footage can be saved locally and sent to the cloud later as needed.
Plug the power cables and switch the gear on and you're basically ready to go.