Easy-to-deploy Augmented Reality solutions for enterprises
Raise productivity to a new level by making your most valuable asset usable: data. Interactive wearable solutions help people on the factory shop floor and on the field do better, learn faster and stay safer.
Maximize up-time
Use hands-free real-time data to solve upcoming issues before they turn into problems
Save time
Do the right things at the right time with the right data
Ensure quality
Good instructions help you do things right the first time
Work safely
Wearables and up-to-date data help reduce human mistakes
Augmented Reality and smartglasses are changing the way we control and monitor machines in digital factories. They are affecting the nature of work and how the future workforce is trained. AR is a tangible tool to get a hold of the data IoT devices provide, and one of the key technologies of Industry 4.0.
Sign up for our newsletter to stay up to date on how augmented reality is changing the way enterprises work.
Let's get started with your journey to industrial augmented reality.
This is how it goes: take an AR app, tailor it with our customization tool, download to your wearables and deploy on the digital factory shop floor.
Check out our solutions and see how AR can help you: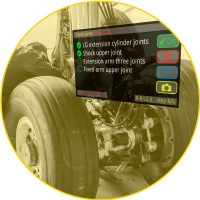 Instructions, checklist and remote support with smartglasses
Read more