Get the right data at the right time! There are very few tasks in company operations that cannot be done a lot better with that.
SmartAlert application keeps people informed about mission-critical data on the factory shop-floor and in the field. This wearables app is all about making sure your operations run smoothly.
Free your hands! The app runs on smartglasses and smartwatches.
Improve productivity
Access the right data easily to make faster decisions, save time and cut waste.
Reduce mistakes
Do things right in the first place, fixing is costly. Let wearables guide their users with task lists, IoT sensor data, instructions, you name it,
Maximize uptime
Stay ahead of things, real-time data helps you solve issues before they turn into problems and downtime.
Stay safe
Stay aware of processes around you and work safely with the right data.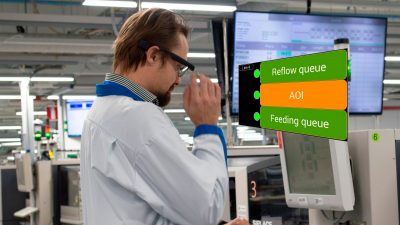 Choose an optimal device
SmartAlert supports smartwatches and all smartglasses that are commercially available on the market.
Smartglasses offer a full set of features and control options, smartwatches are, on the other hand, extremely light and familiar gadgets for any end-user. The freedom of choice is yours, use the device type that best fits your purpose.
Follow the KPIs in real-time wherever you are
You don't need to be glued to fixed displays and dashboards and worry about missing important pieces of information. Wearables let you focus on the essential.
The application supports standard protocols like MQTT and OPC UA, and connects to IoT platforms, company operations execution systems or directly to legacy machinery to draw the right data for you and to let you control the processes. It launches alerts and notifications about upcoming issues and flashes instructions on how to solve them. If you need more help, take a call to an expert.